Introducing Glycosynth
Glycosynth has been providing solutions for customers wanting high quality chromogenic and fluorogenic enzyme substrates for their diagnostic needs since its inception in 1991. Glycosynth offers a range of products for the detection of glycosidase, phosphatase, esterase and aminopeptidase activities. We manufacture many bulk items to order and we also sell research pack sizes.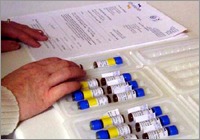 From your initial contact with Glycosynth through to receipt of your order and beyond, you will find our staff offers a friendly and professional approach, backed up by strong technical expertise.
Glycosynth uses its proprietary technology to synthesise a range of substrates including Indoxyl derivatives (BCIG, X-gal, RoseTM-gal), 4-Methylumbelliferyls (MUG), Nitrophenyls (ONPG, PNP-glucuronide) in addition to AMC's and Naphthyl-substrates.
Glycosynth is uniquely focused on enzyme substrates and manufactures to a quality management system that is approved to ISO 9001:2015 standard.
Innovation
Glycosynth has recently developed two novel types of substrates; chromogenic ribofuranosides and catechol-substrates and has granted and pending patents on these items. [See for example Chromogenic Enzyme Substrates ]. For more information on our patented products please follow the appropriate links on the homepage
In addition to developing our own substrates, Glycosynth welcomes working in confidence to develop and synthesise new compounds which meet your particular requirements. Our strong expertise in the synthesis of glycosides and esters enables us to successfully complete the custom synthesis of new substrates. If you require a custom synthesis then please contact us.
Flexible Pack Sizes
As part of our continued commitment to satisfy individual needs, we offer many of our enzyme substrates in conveniently sized packs, at competitive prices. Most stock items are despatched within one working day. Almost all of our products are also available in bulk.
Product List
Click on the relevant category for more information or use our flexible search facility to identify specific products...